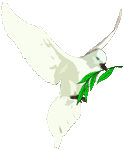 MEDITATION
&
DRUMMING
Sunday, March 25, 2007
7:45 PM
The Peace Chapel
Angel Hill House
Leesburg, VA
Meditation and Drumming
with Prayer Ties
Belated Equinox Celebration
to Welcome SPRING!
As always, we will have some light refreshments,
and you may bring refreshments to share if you like.
NOTE - later starting time due to Daylight Savings Time
We will strive to still end on time so it does not get too late!
If you need to leave before we are done, that is no problem
Remember to take your Allergy meds if you are allergic to cats or dogs
Bring a drum, or borrow one of ours
Prayer tie materials will be provided - donation appreciated
Donation basket will be in the front hall