Invitation to Special Spiritual Retreat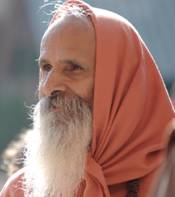 in Vrindavan, India November 11-17, 2007
You are invited to a very special retreat in English with Maharaj Ji at his serene ashram in Vrindavan. Come and delve deep into life's mysteries amidst the lush meditation gardens of this sacred land. Located in Vrindavan, it is the birth place of Lord Krishna and the home of many internationally recognized pilgrimage spots with the Taj Mahal close by. There is a spiritual depth to the area that weaves a complexity to everyday life, which is typically not found elsewhere. The ashram grounds are part of the larger 50 acre Vatsalaya (Affection) Village, which is a dynamic social project spearheaded by Swamiji's devotee, Sadhvi DidiMaa Ritambhara Ji. This is an intentionally developed village that nurtures women and children who were previously abandoned in life and gives them loving family, education, purpose in life. Newly born babies who were abandoned by their parents have been adopted into families here. Women and elders that also had no family are now mothers, aunts and grandparent figures for these children. These new families are given a nurturing home environment within the context of a community environment. The village is a holistic design and incorporates much more than just homes, there is a temple, ashram, walking trails, international school, vocational training center, store, hospital and research center, Naturopathic center and Spa, Ayurvedic center, plant nursery, cow shelter and dairy,
playground, guest homes, dining hall, and more.
Come join us for talks of life's secret mysteries with Swami Ji and deepen your spiritual practice with meditations, breathing techniques, true yoga devotional songs, ceremony and ritual.
During the retreat Naturopathy and Ayurvedic
facilities and services will also be available.
For more information or to reserve your spot in this amazing spiritual journey,
contact: Rev. Sherry Sherry at sherrysherry2@aol.com or Call : 703-771-7811.
A $500 deposit is requested by September 10, 2007.
Balance of $750 due by October 15, 2007.
$1,250 per person includes transportation inside India (Delhi to Vrindavan and return), lodging in The Affection Village Ashram and all vegetarian meals.
Does not include airfare to India.
Plan to leave USA by Nov. 9 to arrive in Delhi India by Nov. 10.
Plan departure from Delhi on November 18, unless
you choose to independently continue your travels
in India after the gathering in Vrindavan.
A large portion of the money will be given to Affection Village
as a donation to support the running of the Affection Village programs.

There are now flights to Delhi directly from the USA without a stopover in Europe
Sherry will be glad to help you coordinate your flights and find the best fares
Please share this with others that may be interested

India is famous for her wandering monks and the ascetics who do not believe in possessions and belongings. Great attraction for Vrindavan beacons them here and Vatsalaya gram provides them with some place to rest and supply them with their meager needs. These great souls bless the inmates of the Vatsalya gram. The complex consists of the following:-

Maharaj Shri Kutia : Living place for the Param Guru Maharaj Shri where people from all walks of life gather not only to seek the blessings but also listen to his advices or Pravachans. There is a main hall to accommodate a large convention.



Independent Guest rooms for Wandering Monks : Sant Niwas is a place where they can spend the night in serenity among their devotees.

Bhojnalaya : This is also attached with a dining hall, created exclusively for the holy souls.






Sant Nivas : Sant Niwas is a place where they can spend the night time in peaceful atmosphere among their devotees and give them their divine blessings